A keen group of 25 bushwalkers from Maroondah Bushwalking Club in Melbourne recently walked the Lavender Trail from Manoora to Murray Bridge over thirteen days of walking. Ably led by fellow member Di Gablek, we were the first group to walk the newest section of this most interesting walk, from Manoora to Eudunda.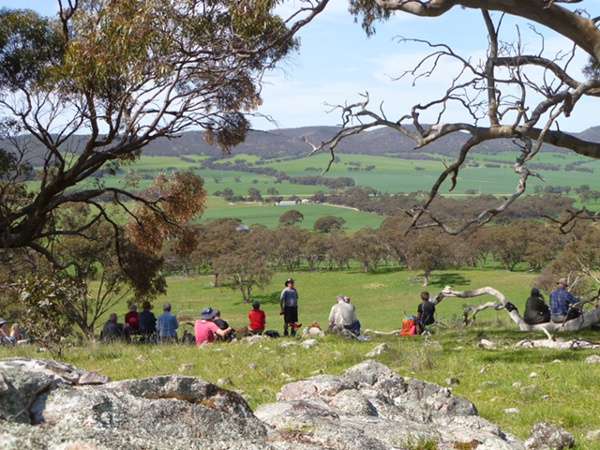 A number of the group had previously walked sections of the Heysen Trail and so were familiar with the work of the late Terry Lavender OAM, the architect of both trails, and the excellent work done by volunteers in the design, construction and maintenance of these lengthy trails that traverse diverse landscapes in rural SA. We were equipped with the four published maps and had received helpful advice re route changes and walking the newest section.
We chose to base ourselves at Tanunda Caravan Park for the first eight days, relocating to Mannum Caravan Park for the final five walking days and used car pooling and shuffling to access the walks. These two towns were popular bases, providing friendly comfort and numerous local points of interest.
Although we hit unseasonably inclement weather, with flooding reported in parts of the Adelaide Hills (our boots were certainly muddied and our wet weather gear put to the test) this did not detract too much from our enjoyment of the trail.
At Manoora we were given a friendly sendoff by a local committee member of the Trail, two farmers, two dogs and a load of sheep. Our spirits were high as we tramped along quiet back roads absorbing the idyllic rural vistas of patchwork green crops interspersed with the bright yellow hues of canola; as we negotiated our first stile, the first of many, too many to keep count; as we lunched with the soft humming accompaniment of giant wind turbines and felt the gentle breezes, the cause of the soft rippling effect in the mature crops around us; as we picked our way along a soft, grassy ridge following the line of wind turbines and looking toward the Tothill Ranges, and then as we encountered our first real climb through Webb Gap to conclude our first day. We had noted with interest that a small part of the trail was shared with the Heysen Trail.
The approach to Eudunda along the ridge of Bluff Range provided outstanding views of the lush countryside. Kangaroos and blue tongue lizards were abundant and curious sheep observed our progress. Once off Scenic Road the walking was soft underfoot and several picturesque ford crossings provided interest. It was surprise all round when we encountered another Melbourne walking group out for a day walk, and the friendly welcome and refreshing drinks at the Point Pass Pub made the extra road walk into the town very worthwhile.
We followed an old rail cutting into Eudunda where the Bakery provided sustenance and welcome shelter from the rain. There was time to admire the attractive Eudunda Gardens and reflect upon the life of local renowned author Colin Thiele whose books were familiar to many of us. In hindsight it would have been worthwhile to linger longer in this proud town, perhaps to spend time at the local museum and further absorb the town's history as a watering stop on the overland stock route in the 1840s and later as an early German settlement.
From Eudunda the trail markers, always so reliable, led us through lush paddocks and along quiet back roads, over undulating terrain, and gullies requiring careful footing. We were often amazed to encounter lizards, despite the damp and chilly conditions, but thankful that our only snake was a dead one. Healthy crops of wheat, including durum wheat, canola, fava beans and commercial peas were identified, presenting a colourful kaleidoscope on the horizon. Whilst there was evidence of wombats none were seen, however, large kangaroos were spotted in the distance and sometimes surprisingly close. The cries and songs of cockatoos, parrots, kookaburras and magpies delighted us and a family of choughs with their basin shaped high mud nests entertained us another day.
The short, steep climb to Leake Lookout afforded wonderful panoramic views and the little township of Dutton provided interest with its restored historical cottages and beautiful cottage gardens.
Between Dutton and Truro we walked in glorious crisp sunshine following an original stone wall for some distance, enjoying the challenge of rock hopping across several creeks and resting for morning tea by a waterfall. Much of the walking was through soft grasses along easements and fence lines in private property until, after crossing the Sturt Highway, we came quite unexpectedly upon an extensive rocky gorge and waterhole, a rare treat amidst the rolling grassy farmlands.
We began walking in heavy fog on day 7 and the days were briskly cold as we walked around Keyneton and Eden Valley. Curious gate signs and sculptures, both natural and man-made, caught our attention and we paused for reflection at a small Irish pioneer cemetery.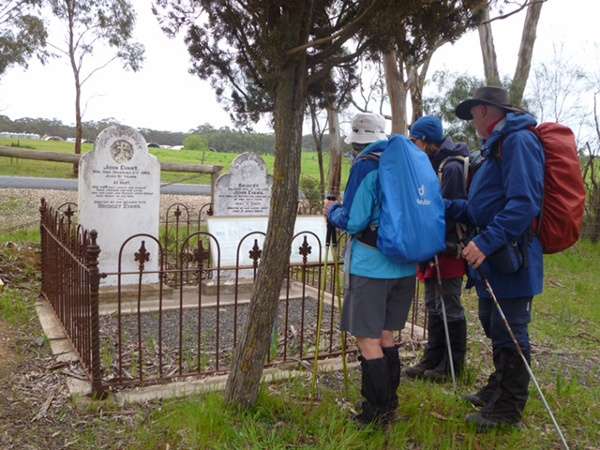 Persistent rain meant we were often walking through boggy areas, sometimes avoiding soggy cowpats as well, and with the added excitement of crossing fast flowing streams. At one point we had a brief standoff with a herd of steers and at another rescued a newly born lamb that had become separated from its mother.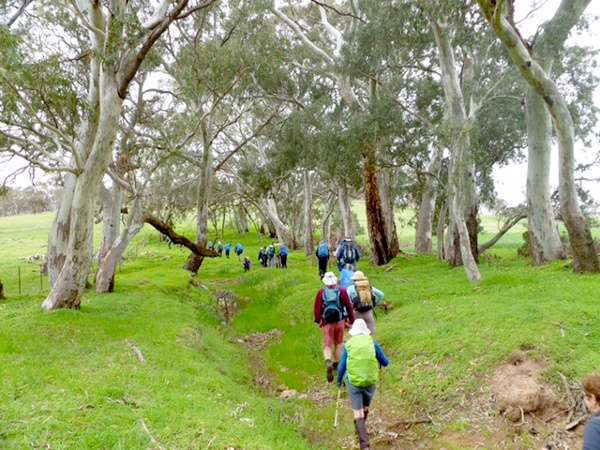 We caught our first glimpse of vineyards and admired the many beautiful horses seeking our attention at the fence lines. It was a joy to walk amidst scenic rocky outcrops, substantial properties and homesteads and majestic, massive gum trees. Some of us later visited the Herbig Family Tree, home for Frederick and Caroline Herbig and two of their sixteen children in the late 1850s. The Springton Hotel provided a comfortable refuge where we could dry out whilst waiting for the cars at the end of another wet but wonderful day's walking.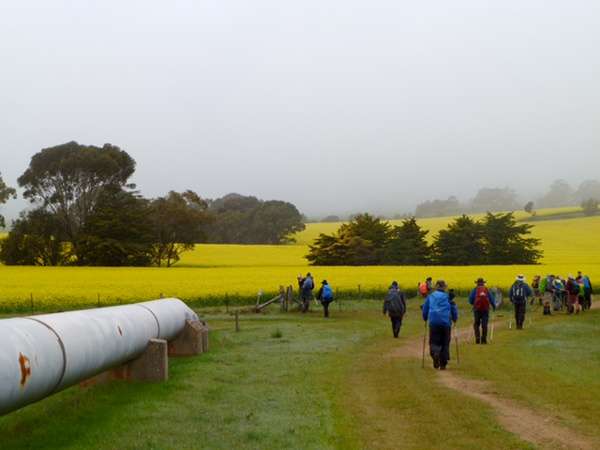 As the trail meandered through the South Mt Lofty Ranges beyond Tungkillo we feasted on the scenic rustic views of the undulating green landscape, farmsteads nestled in valleys, fast flowing creeks, large eucalypts and striking granite rock features. The stiles, still numerous, were higher requiring the perfection of a different technique and rock wallabies were often spotted. The climb up Mt Beevor was surprisingly gentle from this direction and from the peak one could see Mt Lofty and just make out the River Murray as it wound its course to Lake Alexandrina and the Coorong.
A highlight for many of us was the delightful woodland arboretum walk as we neared Monarto. Beautiful flowering gums, plump golden wattles and a colourful variety of wildflowers, together with the quality of the track, made us most appreciative of this walk diversion taking us off Hartman Road.
The Preamimma mine and a long abandoned stone cottage complete with a separate bread oven reminded us of days gone by and we played 'Spot the animals' as we walked by the expansive Monarto open range zoo.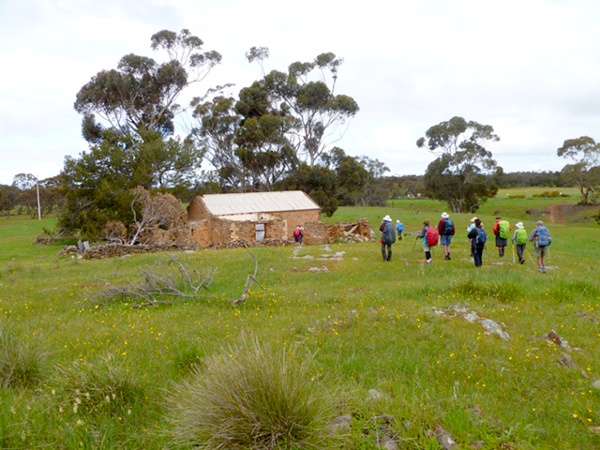 Excitement mounted as we followed the Adelaide Melbourne railway line, walked through the very attractive Rocky Gully Conservation area, under the railway bridge, past the Mobilong prison, the prolific bird life of the wetlands and finally along the Mighty River Murray, its banks swollen by the recent rains, to Sturt Reserve, our destination in Murray Bridge. We had walked a total of 267 km. Coffee and cakes were in order!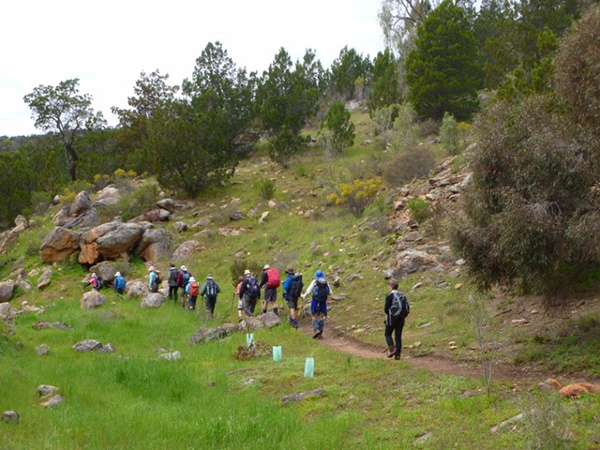 We felt privileged to have been able to experience so intimately the diversity of rural SA; from the ancient granite rock outcrops and gorges concealing secrets of aboriginal lore to the relics of earlier days, reminders of the tenacity and hardships of pioneer life, to modern day farming communities, extended varieties of crops, wineries, horse studs, sheep with their alpaca minders and contented cattle. Our experiences were everywhere enhanced by chats with local farmers and townspeople, curious as to our progress but welcoming and forthcoming with local insights. To be amidst Nature is an exhilarating experience and the native wildlife, majestic gums and Spring wildflowers were a treat. Lingering memories such as these beckon our return to explore more of SA's secrets.
We are indebted to all who have contributed to the development and maintenance of this trail and express our appreciation to the landowners who have so generously allowed access to their properties, making the trail not only possible, but so much more enjoyable and interesting.
Colleen Rowe
Maroondah Bushwalking Club website
A big thank you to Colleen for sending this great story and photos.