ABC Radio – ABC Blueprint For Living with Jonathan Green.
In this story Annie Hastwell explores the newly completed Lavender Federation Trail spanning from Murray Bridge to Clare.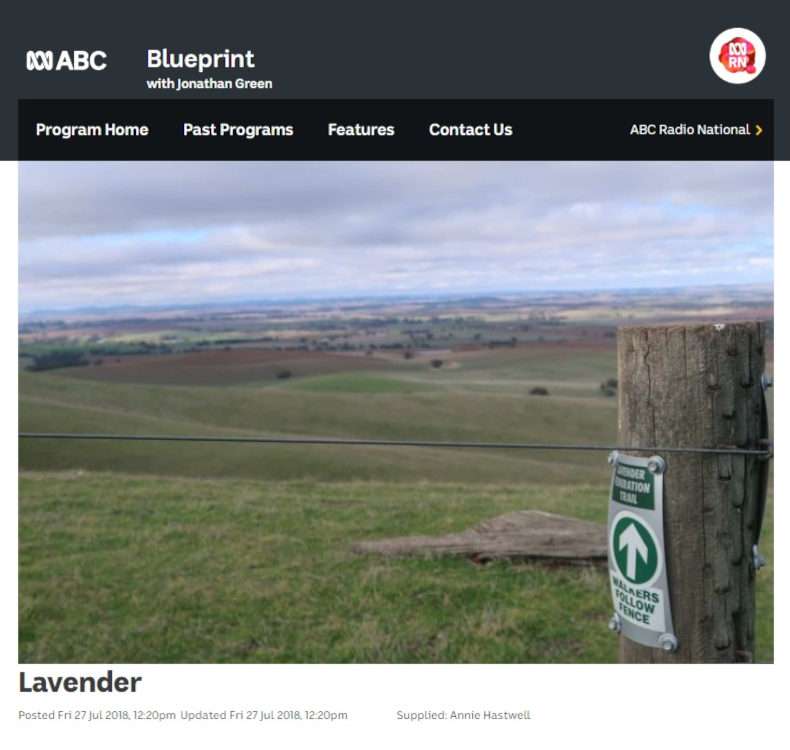 Annie Hastwell takes us on a journey along South Australia's newly completed Lavender Trail which winds from Murray Bridge to the Clare Valley.
It's a trail that is waking up sleepy towns and revealing some of the secrets of the countryside.
During the episode Annie  interviews people involved in the trail
Graham Hallandal, South Australian Recreation Trails Incorporated  (SARTI)
Richard Lathlean, President, Mintaro Progress Association
Paul Rosenich, publican, Magpie and Stump Hotel, Mintaro
David Spackman, farmer, Watervale
Pat Quick, resident, Manoora
Click on the image below to hear this audio episode
Time to listen Total 13 Minutes
We hope you enjoy this insight into the LFT – Thanks Annie and the ABC.